History Lesson: Seraphine de Senlis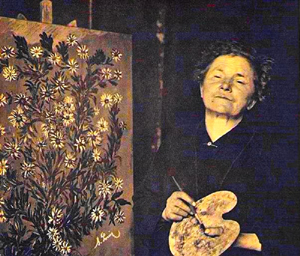 A few weeks ago I saw a movie called Seraphine. The film was about the eccen­tric French painter Seraphine Louis (1864–1942). Very lit­tle is actu­ally known about her life, how­ever one fact is known that before she had turned 8, both of her par­ents had died leav­ing her to become a house keeper and ser­vant, an occu­pa­tion she had for most of her life.
As an adult, Seraphine rented a small secluded room in the town of Sen­lis, France where she lived and painted by can­dle light at night 'using col­ors that she made her­self from unusual and exotic ingre­di­ents she never revealed that have stood the test of time for durable vividness.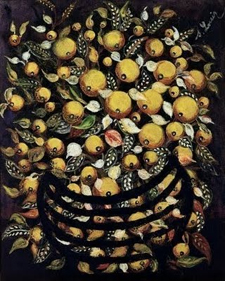 In 1912 Seraphine's paint­ings were dis­cov­ered by the Ger­man art col­lec­tor Wil­helm Uhde. Uhde came to Sen­lis for a rest from his work as an art critic. He had rented a large apart­ment and hired Seraphine as his house­keeper. His neigh­bors upon find­ing out that they were liv­ing next to the promi­nent art dealer, critic, writer and col­lec­tor Wil­helm Uhde invited him to a din­ner party to dis­cuss art and cul­ture. Uhde accepted the invi­ta­tion and attended. Dur­ing din­ner Uhde saw a paint­ing of some Apples, strik­ing and unusual in color and form, he Mar­veled at the beauty, strange­ness and artistry of the piece. Uhde inquired about the artist learn­ing that it was in fact a paint­ing done by his house­keeper Seraphine.
Uhde smit­ten with this paint­ing buys it out­right from his neigh­bor and rushes home. Upon his dis­cov­ery he con­fronts Seraphine and slowly over a brief two years the two begin a friend­ship. Uhde begun to col­lect a num­ber Seraphine's work pay­ing her cash in hopes it would sup­port her and encour­age her to paint more.
In 1914 the war broke out between France and Ger­many, Uhde feared for his life and fled France entirely in the mid­dle of the night with his sis­ter, tak­ing only what he could carry which included a paint­ing by Henri Rousseau. Other paint­ings he had col­lected were left behind. As the town of Sen­lis was pil­laged, Uhde's col­lec­tion was con­fis­cated and sold at auc­tion or destroyed. Among these were the acquired paint­ings of  Seraphine Louis which have been lost forever.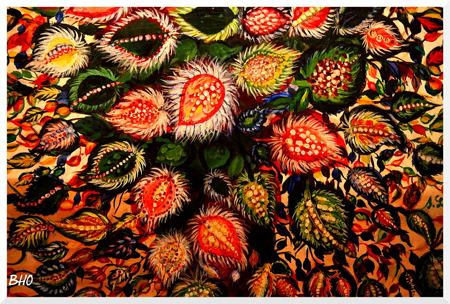 It was not until years later in 1927 when Uhde redis­cov­ered Seraphine's paint­ings. Liv­ing in Chan­tilly, France at the time, he attended an exhi­bi­tion of painted works done by ama­teur artists from Sen­lis. He saw a paint­ing that he rec­og­nized to be Seraphine's and knew he had to see if his great painter had sur­vived the war. He trav­eled back to Sen­lis to find her still liv­ing in quiet iso­la­tion in her tiny room filled with more paint­ings and an alter of can­dles illu­mi­nat­ing a pic­ture of the Vir­gin Mary. The des­o­la­tion of WWI had left Seraphine even more poverty stricken and hun­gry than ever before. Uhde, speech­less and over­whelmed with joy to have reunited with her became her bene­fac­tor, sup­ply­ing her with deliv­er­ies of large can­vases, paints and sup­plies and a stipend. Seraphine's paint­ings became larger and larger and more sat­u­rated with rich col­ors of fan­tas­ti­cal flo­ral arrange­ments. The larger her work became the more it began to sell.  Life for Seraphine Louis,  for only a short while was enjoy­able. Her friend­ship with Uhde had cat­a­pulted her into a period of finan­cial suc­cess she had never known before. She now could paint all day, all night at any hour in a stu­dio sep­a­rate from her liv­ing quar­ters. Such lux­ury she had never known before and was ill equipped to han­dle. This new finan­cial equa­nim­ity over­whelmed her, she squan­dered much of her new wealth on frivolities.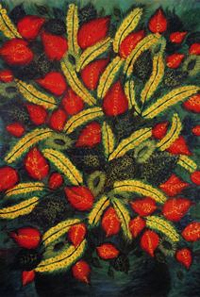 The onset of the Great Depres­sion dev­as­tated the world. In 1930 art buy­ers and col­lec­tors could no longer afford to buy the work that they loved and sup­ported. Uhde suf­fer­ing the effects as well, could no longer afford to sup­port Seraphine as an artist or her per­sonal expen­di­tures. Shortly there­after Seraphine's men­tal state became erratic and unsta­ble she grew depressed, despon­dent and began to slip into lunacy. In 1932 she was admit­ted into a hos­pi­tal for the insane for chronic psy­chosis where she died in 1942 alone.
While hos­pi­tal­ized and after her death Uhde con­tin­ued to show her paint­ings. At the Mod­ern Prim­i­tives Exhi­bi­tion in Paris in 1932, as well as Pop­u­lar Mas­ters of Real­ity in Paris in 1937, in addi­tion to other shows includ­ing a solo show in Paris and in New York at The Museum of Mod­ern Art. Her paint­ings are now part of the col­lec­tions of the Musée d'art de Sen­lis, Musee Malliol in Paris, the Musée d'art naïf in Nice, and the Musée d'Art mod­erne Lille Métro­pole in Vil­leneuve d'Ascq.
SOURCE:  Dee Clements on Sunday, April 25th, 2010, on www.papercrane.com
CHECK OUT THE TRAILER OF THE MOVIE, SERAPHINE, BASED ON THE ARTIST'S LIFE IN SENLIS, FRANCE
SÉRAPHINE
Séraphine Louis (akaSéraphine de Senlis ) -
Obscure Early 1900's French Artist
(1864-1942). Séraphine Louis, sometimes called Séraphine de Senlis, French painter born at Assy in the Oise. She spent her childhood watching over animals, then worked in Senlis as a housekeeper. Almost nothing is known of her life or of how she began to paint. Later, when she was almost famous, she always guarded the secret of her prodigious enamelled technique. It was Wilhelm Uhde who discovered her in 1912. He had rented a small apartment in Senlis for a rest and had hired an old woman to do the housework for him. In a middle-class household nearby he discovered a still life of apples lying on a table, and was deeply impressed. Enquiring about the artist, he learned that it was the servant Séaphine. The first works of hers that he acquired at this time were confiscated and sold at the beginning of the war, and they have disappeared. It was not until many years later that having established himself in Chantilly, he again saw pictures by Séraphine at an exhibition of regional artists in the town hall of Senlis. Struck by the scope of these new works, he sought out the old woman, who lived shut up in a poor room where a small lamp burned day and night before an image of the Virgin. Séraphine, 'small and withered, with a fanatical look and lived face framed by discoloured locks', devoted herself entirely to painting. With the help of Uhde, who supplied her at last with the vast canvases her overflowing imagination required, she achieved a work of unique spiritual significance within a few years. She painted nothing but flowers, leaves and fruit, but hers bear little relation to their natural counterparts. Descriptive or decorative purposes were completely foreign to her art of mystical effusion, which can be compared only to the most lustrous Persian ceramics. The great stained-glass flames in the churches of Senlis, the only possible sources of inspiration of the pious Séraphine, perhaps gave her the idea for the ascending rhythms that activate her large canvases. The details of these works give access to a strange inner world: leaves, whose centre is a fruit or upon which eyes open and lips appear, fringed with lashes, recall peacock's plumage and the wings of the rarest birds. The precision and sureness of these imaginary forms should be emphasized, as well as the magic richness of the colours employed and the balance and harmony of the canvases, which are related to no natural order. Despite evidences of certain obsessions -Séraphine died in a lunatic asylum -- her works are never repetitions; they are perhaps the most direct attempt at expression of a soul.