online art competitions & exhibitions

current competition entries: OFF THE GRID
SPRING/SUMMER 2014

ART COMPETITION THEME: 
OFF THE GRID
winners 
Em*Bodied Art

1st

PLACE: SOPHIA ROSE
- COLORADO [USA]
2nd PLACE: RIINA LAINE- HELSINKI [FINLAND]
3rd PLACE:
PAUL PINZARRONE--ILLINOIS [USA]
DATE CHANGE: SEPTEMBER 287 2014

Be part of the first Queens Art Intervention (QAI)- outdoor "happenings" all over Queens. Featuring artists, singers, musicians, dancers, innovators, poetry readers, change makers, etc. who have come up with an idea of something to do outdoors that will leave a splash of art, brighten someone's day, cause people to think differently, increase collaboration across communities on Saturday, September 27th. This is part of the Rego Park Green Alliance's ongoing mission to

build communities

in Queens with art, technology, and sustainability.

CLICK HERE.

Throughout Queens, NYC


---

Nite Art
WED, JULY 23

-

THURS,  JULY 24, 2014
Melbourne opens up for an after-dark artwalk event, where you 'curate your own night', connecting art, artists and the city. Nite Art celebrates contemporary art in galleries and artist run initiatives, highlighting existing public street commissions in between. This year it expands into curated and unusual architectural spaces, not usually open to the public. TICKETS FREE


Melbourne, VIC, Australia




---
art shows around the world

 

Josef Bernhardt Aviary IX

Ludvig Muzeum, to JUne 29, 2014 

"Entering the birdhouse may seem absurd at first", the artist proposes, "but by placing ourselves into another identity, we can look beyond the familiar schemes of thinking, and may show greater sympathy for other forms of life, among others, for our feathered friends, with whom we share this city and this planet." DETAILS

---

Dedham/Sommerville/Brookline, MASS[USA]

ONGOING

Since 1994, the Museum of Bad Art has been dedicated to bad art. It is only through the efforts of the worldwide Friends of MOBA that they have been able to carry out their mission, at 3 locations, to bring the worst of art to the widest of audiences. LIke this one, "Mana Lisa." With a collection of about 600 pieces perhaps this should be an Art Scene Today Theme!  What do you think?

---
Spirit of the Line Exhibition


Gallery on the Green, ONgoing 


Possibly the world's smallest gallery, this British phone booth houses a constantly changing exhibition, with contributions from local, national, and international artists. "Spirit of the Line" features images from Simon Whalley's recently released book showcasing the everyday magic of the Settle – Carlisle Railway.  DETAILS

---

New York City, NY [USA]

WaterWeavers of Colombia Exhibition
Bard Graduate Center Gallery - To Aug10, 2014

The confluence of the image of the river and the act of weaving is present both metaphorically and literally across contemporary practices in Colombia. Using the river as a conceptual device to explore the intersections in Colombian culture today between design, craft, and art, Waterweavers investigates the intricate ways in which culture and nature can intertwine across disciplines.  DETAILS

---
Art or Not
  Listings...
Competitions & Shows...
Informational Stuff...
Listing/Advertising  
  Opportunities...
Types of Galleries...
Products & Services...and more

You've got to show your soul.  Otherwise you're just a piece of equipment.   ~ Sylvester Stallone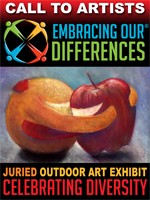 on
art supplies &
other products
EXHIBITIONS & CATALOGUES
Inside Out




 

  

 

Not War!

Advertise Here
Advertise your product or service and reach Art Scene Today artists and art lovers.
Check out ArtSceneToday Videos
artscenetoday.com is your online gallery
with art competitions and exhibitions
---